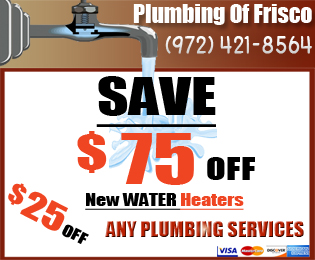 Welcome To Plumbing Of Frisco

Are you having some plumb problems around your residence or commercial building and you would like a professional to alleviate them for you? If this is something that you desire immediately, then you can be confident in the services of Plumbing of Frisco. Our Zip Codes include 75024, 75034, 75035, 75068, and 75070. Give us a call to see if we can help you out today!

At Plumbing of Frisco, you will enjoy a multitude of different services that we offer our Texas customer base. We handle everything to complete water heater tank replacement to fixing your simple faucet leaks. No problem is too big or small for our team of workers, and we are always prepared to jump into action quickly so you don't wait long.